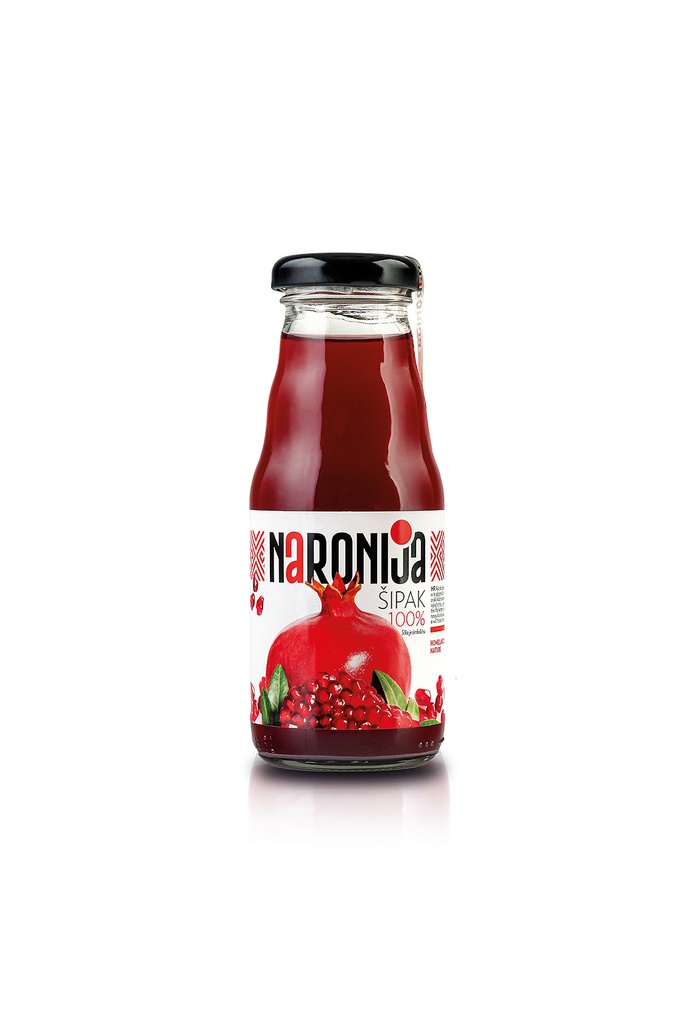 Pomegranate juice 200 ml
---
Pomegranate, cold pressed, pasteurized. No added sugar. Contains natural sugars.

Naronija pomegranate juice is made from local Croatian pomegranate (Neretva valley).

Ingredients: 100% pomegranate.

Instructions for use: Shake before use. Store at room temperature and in a dark place. After opening, store in the refrigerator and consume within 5 days.

Packed in controlled conditions.

By consuming pomegranates, you take in potassium, natural phenols such as ellagitannin and flavonoids. By consuming only 100 mg of pomegranate, you have taken 16% of the recommended daily dose of vitamin C.
Pomegranate also contains the so-called phytochemicals that promote the secretion of serotonin responsible for good mood. Prevention of osteoporosis is also possible because pomegranate stimulates the production of estrogen, which is responsible for maintaining bone mass.
Pomegranate juice is good for the health of the heart and vascular system because it lowers cholesterol and blood pressure and is responsible for dissolving deposits on the walls of blood vessels. Pomegranate ingredients, punicalagines are the main source of antioxidant activity.

Country of origin: Croatia.
Products: Flavours of Neretva d.o.o.
---
OPIS
Konzumiranjem šipka u svoj organizam unosite kalij, prirodne fenole kao što su elagitanin i flavonoid. Unošenjem samo 100 mg nara unijeli ste 16% preporučene dnevne doze vitamina C.
Nar sadrži i tzv. fitokemikalije koje pospješuju izlučivanje serotonina zaslužnog za dobro raspoloženje. Prevencija osteoporoze isto je moguća jer nar potiče i stvaranje estrogena zaslužnog za održavanje koštane mase.
Sok od šipka dobar je za zdravlje srca i krvožilnog sustava jer smanjuje kolesterol i tlak te je zaslužan za otapanje naslaga na stijenkama žila. Sastojci nara, punicalagini glavni su izvor antioksidativnog djelovanja.
Zemlja podrijetla: Hrvatska
Proizvodi: Okusi neretve doo